Le président Donald Tusk va participer au sommet du G7 qui se tiendra au château d'Elmau, en Allemagne, les 7 et 8 juin 2015. Les principaux points à l'ordre du jour fixé par la présidence allemande sont l'économie mondiale, les affaires étrangères, la sécurité et les questions liées au développement. Les dirigeants discuteront en outre des négociations qui auront lieu prochainement dans le cadre des Nations unies en vue d'élaborer un nouvel accord international sur le changement climatique, du cadre de développement des Nations unies pour l'après-2015 et de la sécurité énergétique, sur la base de l'initiative sur l'énergie du G7 de 2014.
Doomsday Lairs! Elite Bug-Out Underground Bunkers And Cities Prepared For Major Catastrophe -
The Elite Will Survive, Will We?
Elite Bug-Out bunkers souterrains et villes Préparées pour la catastrophe majeure du 24 Septembre 2015-
Nos Elites ont également leurs places prévues pour survivre, mais nous, où irons-nous?
Comment passer le Cap "Climatique" que Fabius a révélé pour le 24 septembre 2015 ?
la Jet set a réservé des palaces souterrains que vous ne pourrez jamais vous offrir, avec l'argent du contribuable. Ces révélations Américaines, nous montrent l'Etat d'avancement des préparatifs qu'ils ont mis au point, c'est donc du sérieux, d'autant plus que Bill Gates a fait la Réserve mondiale de semences du Svalbard (en norvégien Svalbard globale frøhvelv, en anglais Svalbard Global Seed Vault et littéralement Chambre forte mondiale de graines du Svalbard), est une chambre forte souterraine sur l'île norvégienne du Spitzberg destinée à conserver dans un lieu sécurisé des graines de toutes les cultures vivrières de la planète et ainsi de préserver la diversité génétique.
Ce site a été choisi parce que le climat et la géologie du Spitzberg se prêtent parfaitement à un tel projet de conservation et que les pays scandinaves sont fortement impliqués dans ce dernier. Creusée près de la petite ville de Longyearbyen (1 900 habitants)1 dans l'archipel arctique du Svalbard à environ 1 120 km du pôle Nord, cette chambre forte est gérée par un accord tripartite entre le gouvernement norvégien, l'organisation internationale Global Crop Diversity Trust et la banque génétique nordique (une coopération des États scandinaves sous l'autorité du Conseil des ministres nordiques).
La première pierre a été posée le 19 juin 2006 en présence des premiers ministres de Norvège, de Suède, de Finlande, du Danemark et d'Islande. L'inauguration officielle a eu lieu le 26 février 20082.
Le fondateur de Microsoft Bill Gates a passé beaucoup de temps dans le domaine des vaccins et des médicaments, tant et si bien que beaucoup le considèrent comme l'un des plus grands experts au monde sur la vaccination et les maladies tendances. Il a dépensé des millions de dollars de son propre investissement de l'argent dans les technologies liées à la vaccination et est un fervent partisan des programmes de vaccination à grande échelle.
Quel que soit votre point de vue sur les vaccinations, le fait est que Bill Gates est vénéré pour ses activités par la communauté mondiale. En outre, il a de l'argent et des connexions pour faciliter la mise en œuvre de programmes répandus, que ce soit volontaire ou forcé.
Dans son dernier Op-Ed Gates, il envoie un message fort aux dirigeants politiques et au grand public, affirmant que même un virus mortel tel que le virus Ebola peut être à l'horizon. Selon Gates, si un tel virus commence à se propager dans le monde qui est mal préparé pour y faire face.
L'épidémie d'Ebola en Afrique de l'Ouest a tué plus de 10.000 personnes. Si rien de bon ne peut venir de cette tragédie qui se poursuit, il est que le virus Ebola peut éveiller le monde à une triste réalité: Nous sommes tout simplement pas prêts à faire face à une épidémie mondiale.
...
De toutes les choses qui pourrait tuer plus de 10 millions de personnes à travers le monde dans les prochaines années, de loin le plus probable est une épidémie. Mais il presque certain que ce ne sera pas Ebola.
...
Autres maladies - la grippe, par exemple - se répandent dans l'air, et les gens peuvent être contagieux avant qu'ils se sentent malades, ce qui signifie qu'une personne peut infecter de nombreux étrangers simplement en visitant un lieu public. Nous avons vu cela se produire avant, avec des résultats horribles: En 1918, la grippe espagnole a tué plus de 30 millions de personnes. Imaginez ce qu'il pourrait faire dans le monde hautement mobile d'aujourd'hui.
New York Times Via Le Common Sense Afficher
En effet, la réapparition d'un virus mortel comme la grippe espagnole serait désastreux.
Mais devrions-nous être inquiets? Selon Dave Hodges nous devrions l'être.
Bill Gates la soif de vaccins ne connaît pas de limites. Lors de réunions avec d'autres «philanthropes» (c.-psychopathes) encourageants, les chercheurs mondiaux ont commencé à reconstituer d'anciens virus, probablement dans le but de développer des vaccins pour les pandémies meurtrières du passé.
Dans un avenir proche, nous pouvons souhaiter et avons suivi le vieil axiome, "Laissez le chat qui dort", parce que dans un acte d'une extrême folie, le virus a été reconstitué , par le Center for Disease Control chercheurs. Le virus reconstitué a été obtenu à partir d'échantillons de tissus congelés d'une femelle qui est mort à partir du virus dans le foyer 1918.
Malheureusement, la grippe espagnole n'est pas le seul cas de pandémie qui est reconstitué et cela signifie encore plus de vaccins pour Bill Gates. Combien vont mourir pour que Gates et ses partenaires puissent réaliser un retour sur investissement très lourd?
...
Le jury est pas sûr de Bill Gates.C'est un homme qui parle avec son esprit. Dans son éditorial du New York Times, Gates nous met en garde contre le retour du virus Ebola et aussi de la ré-émergence d'autres virus mortels. Ce serait une grave erreur de ne pas prendre au sérieux Bill Gates. Qu'est-ce que Bill Gates sait que nous ne savons pas?
Rapport complet
Nous savons que les scientifiques ramènent les fléaux d'autrefois, justifiant cela en prétendant qu'ils utilisent ces vieux virus pour créer de nouveaux vaccins. En outre, l'armée a travaillé sur les armes biologiques depuis des décennies, de sorte que l'on ne peut imaginer les types de virus qu'ils ont dans leur poche arrière.
Mais on ne peut pas empêcher de penser que peut-être le public aura mis en place pour les programmes futurs qui nécessiteront des vaccins forcés.
Ces derniers mois, nous avons vu la réémergence de la rougeole aux États-Unis. Bien que personne n'a officiellement identifié la cause, on soupçonne que la politique de frontières ouvertes du gouvernement peut être à blâmer. Mais le débat sur la rougeole, centré non pas tant sur la façon dont cette supposée épidémie éteinte est arrivé ici , mais que tout le monde a besoin de se faire vacciner .
Nous avons entendu des arguments semblables au sujet d'un vaccin à virus Ebola à venir. Bien que pas encore testé, nous entendons déjà des appels à la vaccination forcée qui devraient être développés. Bizarrement, il parle même d'un vaccin combiné Ebola / rougeole .
La fin du jeu est pas encore claire, mais étant donné que le Bill Gates est très respecté et met en garde contre des épidémies incontrôlables, il ya un couple de scénarios qui viennent immédiatement à l'esprit. Premièrement, le pouvoir exécutif des États-Unis n'a pas de scrupule à utiliser des Actions de l'exécutifs et des ordonnances pour mettre en œuvre sa politique, les vaccinations forcées pourraient bien être sur le chemin si la grève de la crise à droite, et ils vont venir avec de prépandues déclarations de la loi martiale . Deuxièmement, et peut-être encore plus effrayant, est que Bill Gates a la connaissance d'une maladie mortelle qui pourrait bientôt être déclenchée.
Depuis il n'y aurait pas de remède, votre seule option serait alors de se faire vacciner, ou, pour mettre en œuvre des mesures pour éviter de contracter la maladie pour commencer.
Tess Pennington, auteur de Blueprint Le Prepper , dit que nous devrions rester vigilants et chercher des signes qui indiquent une épidémie virale est imminente:
Le temps de se préparer pour le pire des cas est maintenant. Ce qui suit sont six panneaux d'avertissement clés que vous devriez rechercher. Lorsque ces événements viennent à passer ou vous voyez ces signaux, vous devriez sérieusement envisager de mettre en place un verrouillage auto de quarantaine:
les fonctionnaires d'urgence disent qu'ils ont la situation sous contrôle, mais plus de cas continuent à apparaître.
Les gouvernements locaux et étatiques déclarent officiellement une urgence.
Des cas ont été identifiés à votre hôpital local ou dans les écoles dans votre voisinage général.
Le grand public commence à paniquer et les tablettes des magasins commencent à manquer de fournitures essentielles comme la nourriture et l'eau en bouteille.
Le pillage et l'anarchie se produit au sein de la communauté locale.
Le virus viole un rayon de 50 mile qui entoure votre maison ou votre ville.
Si un de ces signes commencent à apparaître autour de vous, il est temps d'envisager sérieusement de vous éloigner de la société, et en particulier des lieux très denses comme les magasins de détail, des événements sportifs ou des écoles.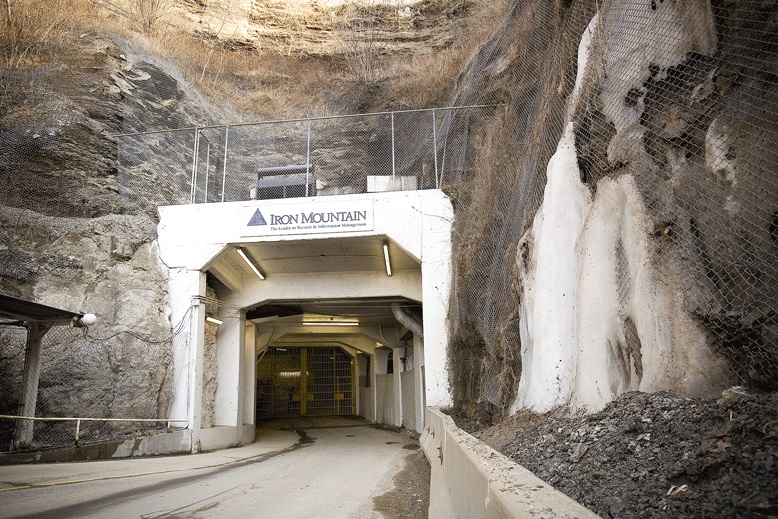 With stories of missing food, recalls, government stockpiling of ammunition and weapons, medication shortages, vanishing money andmissing gold, and more being buzzed about on the Internet, one possible answer of where it is all going, who is hoarding it, can be found over at the Bob Fletcher Investigation website.... a site I encourage everyone to go to and browse around.

While some may not agree with his ultimate conclusions of what the final catastrophe will be, the information provides on "Doomsday Lairs", underground facilities, bug-out locations, whole cities and tunnel systems, not only in the US, but across the globe, makes it undeniable that the elite are preparing for an extinction level event, using food, money, gold and other necessities, all paid for by you.... the taxpayer.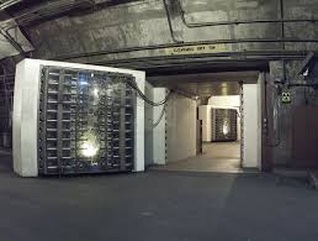 They will be safe and cozy, underground and protected, while those very same taxpayers are fighting to survive the aftermath of the expected catastrophe.

I go through some of these these locations, (over 100 of them at the site!) in the first video below. The second video was shown in an article from yesterday, so people can hear Fletcher directly, where he explains how he obtained much of this information on these bunkers and connecting it to the "vanishing" money. The following videos after those two are older, companies building bunkers for the elite, and a look inside of an underground bunker stocked with food and necessities.

A few of the most talked about locations are Denver Airport, Weather Mountain, Site "R" Raven Rock, Area 51, Camp David and Under the Capitol Building.... just to name a few.

The bottom line is they have been preparing for decades.... have you?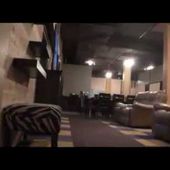 Company Builds the Elite Secret Bunkers for Catastrophe
05/11/2012 When it comes to Armageddon, there are plenty of prophets, psychics and pessimists who say the end is nigh -- and just in case, a Del Mar-based company is preparing for the worst. "The ...
Where have they applied the multi-billions of dollars?

Moral, honest, forth-right, dependable, mentally strong, intelligent, creative, inventive, analytical, politically savvy and helpful, would be the terms we wish our leaders all fit into.

After 50 years of deceptive self -serving fraudulent liars, all in the leadership roles, very few of our leaders would fit under any of those banners. When they take office, they are instructed that if they play along they can survive in office. However, if they resist or become too open and honest with the public, they will not survive the office. If they get too open and talk too freely, they will not survive anything they will not survive !

Many years ago a plan was put into place, literally unconstitutional in content, but sold to the Americans as a necessary program. It may have been, at that time., but it was s left to fester under careful attention of a crooked few persons. It has grown into a nightmare for the future Americans who may survive the next global disaster.

Continuity of Government, at the cost of Continuity of America

And our Constitutional way of life!

A Continuity of Operations Plan (or Continuity of Government Plan) has been a part of U.S. government operations since at least the Cold War, when President Dwight D. Eisenhower provided (via executive order) various measures designed to ensure that the government of the United States would be able to continue operating after a nuclear war. These measures included construction of underground facilities such as "Mount Weather", a hollowed-out putatively nuclear-proof mountain in western Virginia with a mailing address in Berryville, Virginia.

The public can now tour one such facility, intended to house the entire United States Congress, on the grounds of the Greenbrier Resort in White Sulphur Springs, West Virginia. Other provisions of the plans included executive orders that designated certain government officials to assume Cabinet and other Executive branch positions and carry out the responsibilities of the position if the primary office holders are killed. There has been a formal line of succession to the presidency since 1792 (currently found in the Presidential Succession Act of 1947, 3 U.S.C. § 19). This runs from theVice President to the Speaker of the House of Representatives, President pro tempore of the Senate, and then through the Cabinet secretaries in a sequence specified by Congress. Continuity of government plans is not limited to the federal government. The majority of states have constitutional provisions that provide for the succession of government in the event of an "enemy attack." The hideouts have been taken over by the Elite few, and will be there survival, while millions, above ground eat at each other in the ultimate final days.

For all those who asked where are they?

For everyone else, worried about the underground hideouts..

HERE IS THE LIST OF MANY UNDERGROUND HIDEOUTS IN AMERICA!
RT
Sun, 29 Mar 2015 17:27 UTC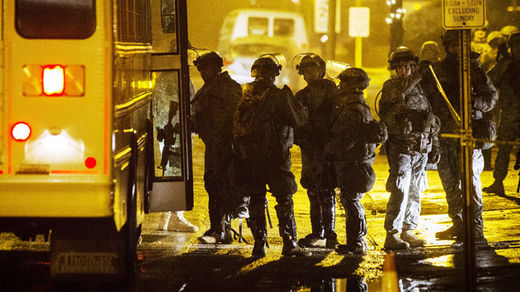 As elite branches of the US military prepare to hold military training in seven southwest states, with some troops operating incognito among civilians, some Americans fear the training is actually preparation for imposing martial law.
Operation Jade Helm, which is scheduled to kick off in July and run for eight weeks, will involve the participation of 1,200 troops from the US military's most elite fighting forces, including Green Berets, Navy SEALS and Special Operations from the Air Force and Marines.
The troops will be participating in what has been called Realistic Military Training in towns in Arizona, California, Colorado, New Mexico, Nevada, Texas and Utah.
In an effort to simulate the type of battlefield conditions soldiers may face in foreign countries,
the US military has designated the remote training areas where they will operate as in a
"hostile"
territory
, a description that has irked some residents.
Meanwhile, Texans living in close proximity to the operation will be asked to report any
"suspicious activity"
during the exercise
, a request that seems to contradict the belief laid out in the
US military training document
,
leaked
by The
Houston Chronicle
, that Texans are
"historically supportive"
of military efforts to
"fight the enemies of the United States."
The training exercise, according to
Shadow Spear
, a publication of USASOC,
"will be conducted on private and public land with the permission of the private landowners, and from state and local authorities."
"The most noticeable effect the exercise may have on the local communities is an increase in vehicle and military air traffic and its associated noise,"
Shadow Spear
said.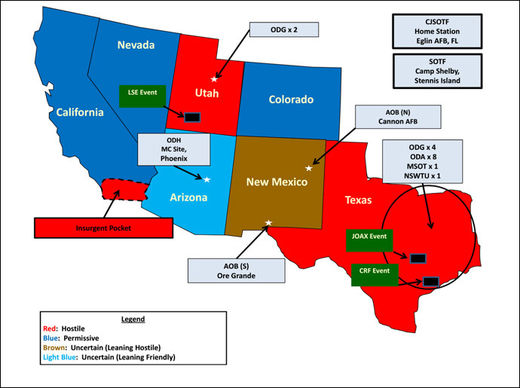 Army Special Operation Command spokesman Mark Lastoria attempted to allay fears that the training is a actually an effort on the part of the military to practice
"covert warfare tactics and martial law."
He said the domestic military operations are designed to develop
"emerging concepts in special operations warfare,"
and were not part of some kind of dark plans to take over the United States.
"That notion was proposed by a few individuals who are unfamiliar with how and why USASOC conducts training exercises,"
he told
Stripes
, a US Army publication.
"This exercise is routine training to maintain a high level of readiness for Army Special Operations Forces because they must be ready to support potential missions anywhere in the world on a moment's notice."
Paul Pape, a Bastrop County judge, also downplayed fears that the domestic military training was in reality rehearsal for full-blown martial law on the streets of America following some sort of major catastrophe
.
"What I see here is an opportunity for a portion of our military to be better prepared and better trained to do work that has to be done to secure America's interests around the world and here at home,"
Pape told KEYE television in Austin, Texas.
The explanations given for the training, however, has not stopped fierce speculation among a number of citizen groups and alternative media sites as to why the entire states of Texas and Utah, as well as a section of southern California, have been declared
"hostile,"
while portions of the military detachment will be operating in the shadows of communities.
"They're having Delta Force, Navy SEALS with the Army trained to basically take over,"
Info Wars' Alex Jones railed Sunday.
"Texas is listed as a hostile sector, and of course, we are... here defending the republic."
This is not the first time that American urban areas have served as the training areas for US forces.
In December 2014, Americans were unsettled by the spectacle of US Special Forces
black helicopters
buzzing the skylines of major US cities, including Dallas and Los Angeles, part of what it described as training in
"realistic urban sites."
Now, the Special Forces boots will be on the ground in cities and towns across the country, and that has some people asking a lot of questions.
Comment:
Well, there was this recent drill:
Operation Vigilant Guard
. Here's a somewhat creepier explanation of Operation
Jade Helm
: