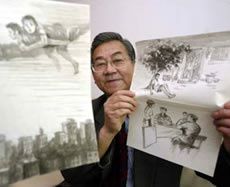 Sun Shili, un fonctionnaire de l'ancien ministère des affaires étrangères qui est
maintenant président de la recherche sur les UFO de Beijing, a déclaré que les extraterrestres marchent parmi nous sur la terre, qu'ils sont partout, tant comme travailleurs en usine que dirigeants dans les sphères de pouvoir au sein d'industries et de gouvernements.
La Chine est reconnue comme ayant le nombre record dans le monde d'organisations scientifiques de recherche sur les phénomènes extraterrestres. La Société Nationale des Études Extraterrestres est un centre de recherche financé par le gouvernement, composé exclusivement de scientifiques et d'ingénieurs, dont le tiers des membres sont aussi membres du gouvernement.

Source:
He also indicated that doctors had indicated that Zhao Guo's scars "could not possibly have been caused by common injuries or surgery." Meng Zhao Guo, a humble farmer with only 5 year's schooling, also indicated that he had never heard of UFOs or ufologists until after his experience had been reported.
In China Bill Chalker, an Australia UFO scientist, was able to have extensive discussions with Professor Chen Gongfu, the principal researcher of the Meng Zhao Guo case. He has asked me to assist in getting his research translated and available to western audiences. We are well underway to achieving that goal.
Research on Cao Gong's contact with ETs
In December 1999 Cao Gong, a middle-aged man from Beijing, indicated to Bill Chalker, that he had been abducted by aliens and flown to Qinhuangdao in their UFO. "They looked like humans but had large hands and were very pale, " Cao said. He said he had also met a Chinese girl in the flying saucer. Zhang Jingping's research investigation began in April 2000. The first step was hypnosis. Zhang invited a famous psychologist from Suzhou and asked him to conduct hypnosis on Cao in helping him to remember the whole incident. Then he brought Cao to the Beijing Bureau of Public Security and gave him a lie detection test. "He passed the test," says Zhang. According to Cao, who is the principal of a private school in Fangshan District, he met a Chinese girl in the flying saucer, who looked around 13 years old. "The aliens cured her disease in the flying saucer," he claimed. In order to find the girl, Zhang brought Cao to the Tangshan Bureau of Public security in July 2000. "The policemen made up a computer image photo-fit of the girl's face according to Cao's description," says Zhang.
In November 2002, Zhang led a group of students from Beihang University and set out on a trip to Qinhuangdao, in search of the mysterious girl.
"There was only a narrow glimmer of hope of finding the girl with only a computer image of her," says Zhang. They arrived in Qinglong County to the north of Qinhuangdao, and began their blind search among the county's 400,000 population. "Amazingly, we found a clue on the second day of our search. An old man in the county recognized the girl in our picture," says Zhang. They found the girl soon after that. She was 15 years old. Zhang brought her back to Beijing to meet Cao Gong. She was identified by Cao as the girl he had seen in the UFO. Zhang has now spent three years investigating this case."This case is fascinating and I was fortunate that while in China I was able to discuss the case in detail with Zhang Jingping and other researchers, and also talk to Cao Gong himself.
Fortunately in Beijing, Bill Chalker secured the services of Irene, an excellent translator, guide, and interpreter. Mr. Chalker and Irene have been working on a detailed translation of the case.
Over 400 members of Dalian's UFO Society have college degrees
In Dalian's UFO Society, 90 per cent of the 400 members have college degrees. "It's exciting for us to use science to decipher UFO sightings," said Zhou Xiaoqiang, secretary-general of the Beijing UFO Society.
While few Chinese claim to have managed to get quite as intimate with an extraterrestrial as Meng, a growing number of people in China believe in unidentified flying objects, or UFOs.
In fact, Officially registered UFO associations in China have about 50,000 members, but some estimate the actual number of Chinese interested in the subject is probably in the tens of millions.
China has a bimonthly magazine -- circulation 400,000 - devoted to UFO research. The conservative state-run media also report UFO sightings on a regular basis, in contrast with Western government organization which, as a policy, deny verifiable human contact with Extraterrestrial. UFO buffs in China claim support from eminent scientists and liaisons with the secretive military, giving their work full scientific respectability.
"If something flies over [ET spacecraft], there's a very good reason for trying to understand why they're here, why they come to us, what is their relationship between us and them," he says.
Wong is the Chairman of Hong Kong's thriving UFO club -- exploring "unidentified flying objects" or, to the uninitiated, "flying saucers."
The club meets once a month to explore otherworldly topics like "E.T. Civilization" and alien philosophies.
"In order to understand UFO phenomena, we need to have a broad understanding of different disciplines," says Albert So, university professor and Hong Kong UFO club member, "including mathematics, physics, history, philosophy, even some sort of paranormal activities and all that."
Western science and pseudo-religions share corresponding systems of dogma, which seek to deny human contact with Extraterrestrials
In order to appreciate the systematized denial of human extraterrestrial contact and influences on Human civilization, which prevails in the West, one needs to appreciate that "official science" and "institutionalized religion" in the West are two different "heads" of the same body politic. Yes, "official science" in the West talks of "evolution", and Western institutionalized religion talks of "Creation". However, both groups have reached an apparent consensus to disregard clear evidence of verifiable contact and influences by Extraterrestrials on Human civilization. This joint denial is based upon a shared oppressive ideology, which seeks to repress critical human knowledge of cosmic associations and interactions with Off-world Human and other ET civilizations.
The very same apparent dogma shared between the Western scientific and institutionalized pseudo-religious Establishment, converges in their "community of interest" associated with their joint pursuit of venality and greed. Examples of the sell-out of integrity, and associated buying into ideology and compromises to elite-induced peer pressure, is well documented in the Western scientific community, that operates in a crass materialistic societal milieu, which ignores basic principles of human rights and democracy. This very same shared dogma between Western scientific and institutionalized pseudo-religious Establishments, is also responsible for the path of oppression, genocide, wars, racisms, and environmental destruction which scientific "techologicalocrats" and self-professed "Christian" pseudo-religious missionaries and other apologists have furthered and have supported.
Jesus who supposedly inspired Western "Christian" religion, which is based on corroborations in the Bible, sought to support the need for wisdom, accompanied by peace and lovingkindness. However, the actual historical practice of institutionalized Christianity, in contrast, has been to maniupate the masses into accepting bigoted views that are designed to complement the materialistic-centred objectives of an "organized power" elite.
Saying that "the Earth is round.. and revolved around the Sun" used to be an indictable offence with the prospective sentence of capital punishment, in Western "Christian" Society which regarded such talk to be the mutterings of seditious lunatics. "Official Science" and "institutionalized religion" in the West is not substantively inspired by the free-spirited pursuit of wisdom. Rather, these Establishment milieus in the West are guided by "elite ideologues" who in contrast with China, and for their own dogma-driven agenda, seek to delude the public on Extraterrestrial awareness, and other areas.
"Brazil, India and China are taking the lead on extraterrestrial awarness", Mihir Sen, from the India Daily reports. "They want to make sure the emerging new world understands that we have to coexist with our advanced extraterrestrial neighbours." The Indian Daily reports that Extraterrestrials will be forced to more publically reveal themselves in order to try to avoid a planetary disaster which is projected to occur in 2012.
As human civilization is being destroyed under the hyprocisy which guides the Western Scientific and pseudo-religious Establishment, the timely needed enlightenment of human populations on a reported Extraterrestrial presence, could very well be led by China. The government of China notwithstanding accounts of human rights abuses, appears to have constructively prepared members of that society, on the kind of potentially vital awareness context, which Western governments continue to deny its own societal members.
Recommended Readings on a rejuvenating the international political ecomony away from capitalism, which supports the oppression of vital civic awareness in areas which include Extraterrestrials: Do Extraterrestrials Exist? ISBN:189731809X, The Quality-of-Life and Human Development, ISBN: 1897036353, 2006, 2007, Capitalism is Not Democracy, ISBN: 1894934636.
Make comments about this article in The Canadian Blog.

source: Wikistrike