Commentaire de Nancy Lieder le 19 mars 2022
La terre à l'ouest du Mississippi est-elle en train de couler ?
Une usine Nestlé subit d'importants dégâts dans un incendie
Un incendie chez Nestlé a causé d'importants dégâts sur sa nouvelle ligne de production. Huit camions de pompiers ont été appelés pour combattre l'incendie. Dans un premier temps, trois camions moteurs et deux camions échelles ont été appelés sur les lieux. Nous recherchons la cause de l'incendie.
NOAA - National Weather Service - Water
National Weather Service Advanced Hydrologic Prediction Service (AHPS)
Avertissement d'inondation : Déclaration d'inondation National Weather Service Little Rock AR. 942 AM CDT Sat Mar 19 2022 ...
L'alerte aux inondations se poursuit pour la rivière suivante en Arkansas... White River At Clarendon affectant les comtés d'Arkansas et de Monroe.
Un incendie "énorme" à Barberton Steel Industries détruit un laboratoire, aucun blessé n'est signalé.
'Tremendous' fire at Barberton Steel Industries destroys laboratory, no injuries reported
A "tremendous" foundry fire at Barberton Steel Industries was brought under control Friday with no reported injuries. Barberton firefighters were called at 12:10 p.m. and arrived to find heavy smoke
https://www.beaconjournal.com/story/news/2022/03/18/industrial-fire-reported-barberton-steel-industries-huston/7091688001/
Les pompiers ont répondu à un important incendie de fonderie vers 12h30 à Barberton Steel Industries. Les pompiers ont déclaré qu'il y avait une épaisse fumée et des flammes sortant d'un toit lorsqu'ils sont arrivés au 240 E. Huston St., entre N. Van Buren Avenue et la rivière Tuscarawas.
Un entrepôt en construction de Brownsburg prend feu vendredi après-midi.
Un entrepôt en construction à Brownsburg a pris feu. Les équipes de secours ont été appelées à 12 h 41 à l'angle de Ronald Reagan Parkway et de Connector Road. L'incendie s'est principalement limité aux matériaux de construction. Les autorités ont déclaré que jusqu'à présent, il n'y a aucune preuve que cet incendie ait été déclenché intentionnellement ou qu'il soit lié à l'incendie de l'entrepôt Walmart à Plainfield.
-----------------------------
Nous avons prédit que les terres situées immédiatement à l'ouest du cours inférieur du Mississippi s'enfonceront, de façon spectaculaire, pendant l'ajustement de New Madrid. Ce processus commence tôt et est déjà en cours pour l'Embayment en Arkansas. Les avertissements d'inondation en Arkansas sont censés concerner la pluie, mais les seuls comtés avertis sont ceux situés sur la White River, près de l'endroit où elle rejoint le Mississippi. Pourquoi ne prévoir de la pluie que dans ces comtés, qui se trouvent justement être le théâtre d'une dévastation soudaine dans une usine Hershey's à Jonesboro ?
De même, les ruptures le long de la ligne de faille de New Madrid, là où elle traverse la zone sismique de Wabash et passe sous les Grands Lacs dans l'Ohio. Si la ligne de faille de New Madrid n'était pas bien connue, on pourrait presque dessiner la carte à partir de la pléthore soudaine d'explosions et d'incendies d'usines causés par des ruptures de raccords.
La ligne de faille se désagrège,

étirant certainement des roches tendres ou des sols meubles qui sont prêts à se désagréger. Mais c'est la roche dure de part et d'autre de la ville de New Madrid qui résiste et qui sera l'événement déclencheur.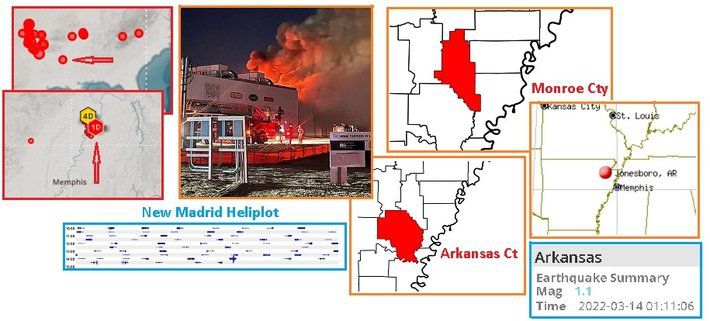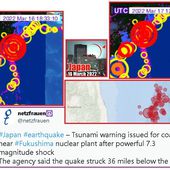 New Madrid unzipping: 3 week start
The Zetas said 2 to 3 weeks starting at the end of December overlapping into January. We already passed their forecast. Is it delayed again? It seems that after the 20th everything went quiet again
http://poleshift.ning.com/profiles/blogs/new-madrid-unzipping-3-week-start?xg_source=activity&fbclid=IwAR15xsyk2Kb98Qjb2rd2jy_fbYE2fjVJ_Hx_kmm0hybUxzJV1gxXR0Tejco